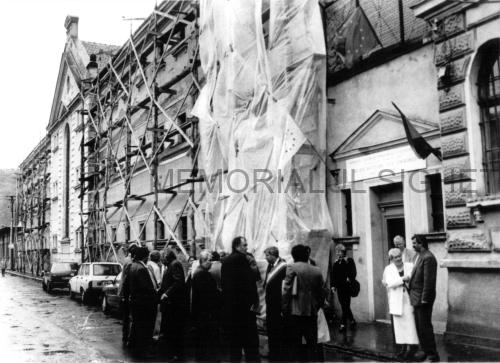 The Civic Academy Foundation took over the ruins of the former prison in 1993, with a view to transforming it into a museum.
In order to implement this project, it was necessary both to raise funds for restoration of the building and to collect a databank of the information needed to create the museum.  The Centre for Studies into Communism, founded by Romulus Rusan in 1993, has gathered oral history recordings and collected photographs, documents, realia, letters, period newspapers, books, textbooks, and photograph albums, as well as organising workshops, seminars, symposia, and meetings between victims of communism and historians from Romania and abroad, and publishing books of eye-witness accounts, research, statistics, and documents about the anticommunist resistance and its repression.  To date, the Centre has made over five thousand hours of recordings, published 35,000 pages in book form, and collected tens of thousands of documents (loose leaves, photographs, and audio and video cassettes).
In parallel, the tender for the design to restore the building was awarded to the UMROL Company from Cluj and the Stelid company from Baia Mare. The work took until 2000. As the century-old building was in ruins and affected by damp, it was necessary to rebuild the foundations, insulation and roof, and the inside walls (which had not been re-painted since the 1950s) were whitewashed.
The fruit of painstaking research, each cell has become a museum room in which the main topics concerning communist repression, the destruction of the rule of law, and its replacement with a totalitarian system are traced in chronological order.
The historical research has been carried out by the employees and collaborators of the Centre for Studies into Communism, and the Museum rooms have been designed by designer Ştefan Popa of Ozana Design, architects Radu Canciovici and Ciprian Ionescu of Prima Metal, designer Bogdan Dumitrescu of Lime Production, architect Dan Popovici of Forum Art, designer Alexandru Ghilduş of Ghildus Design System, architect Petru Gheorghiu of APGA, and architects Matei Marcu and Octavian Carabela of MB Studio.