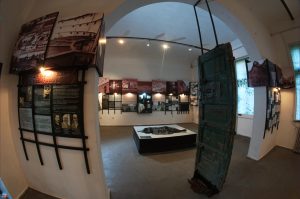 Overall, more than two million people were persecuted politically using coercive methods in the People's Republic of Romania. Six hundred thousand Romanians were arrested and sentenced to imprisonment between 1945 and 1989. Hundreds of thousands were placed under administrative arrest, i.e. imprisoned without trial, some of them for
periods of up to eight or even ten years. The terror reached its peak in 1948-1953 and again in 1958-1960, when numerous forced labour camps were set up to receive the overflow from the penitentiaries and those the regime considered to be a threat were deported on a massive scale (in total, more than 200,000 persons were uprooted).
This room presents a number of the penitentiaries where the intellectual elite of Romania was exterminated, along with peasants, priests, businessmen, tradesmen, officers, students, and countless minors and women.
We have endeavoured to present a number of the larger prisons according to their functions and characteristics. We have shown how the prison cell frequently became a kind of university. We have exhibited objects from the squalid everyday life of the incarcerated. We have made graphs showing the movement of detainees from one prison to another and, in order to illustrate the particularities of each individual life, we have illustrated the tragic journeys made by a number of major Romanian historical figures (see the application on the touch-screen).
An important detail: the massive door in the middle of the room was brought here from the now demolished prison in Galaţi where, between 1947 and 1951, the great educators of Romanian democracy, Iuliu Maniu and Ion Mihalache, were incarcerated. Maniu died in Sighet in 1953 and Mihalache died in 1963, after being moved to Râmnicu Sărat Prison and suffering further years of illness and misery.