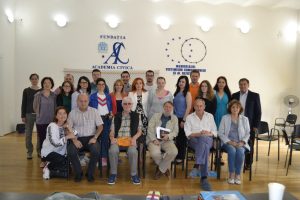 To celebrate 25 years from the beginning of the Sighet Memorial and 20 years from the first edition of the Sighet Summer School, between 15-16 July, former students and lecturers met again to the Sighet Memorial to speak about what represented this experience to them (memories, meanings, influences, consequences).
The Sighet Summer School, organized by the Civic Academy Foundation to the Memorial to the Victims of Communism and to the Anticommunist Resistance, took place between 1998 and 2014. Along its 17 editions, 238 lecturers from 19 countries, 1300 pupils and students from Romania and Republic of Moldova and 200 history teachers from Romania came to Sighet. Conferences, round tables, debates, book launchings, exhibitions, concerts, films and excursions were organized.
At the meeting, which took place in Sighet between 15-16 July, an initiative group, made by former participants to the Summer School, has decided the creation of the community Alumni of the Sighet Summer School.
The main purpose of Alumni of the Sighet Summer School is to keep alive "the spirit of the Sighet Summer School", cultivating with nostalgia its ideas and its solidarity, and to support the educational projects of the Sighet Memorial. During the next period, the initiative group wants to gather as many students as possible from the 1300 young people who participated to the Sighet Summer School between 1998-2014.
More information about the Sighet Summer School
SIGHET SUMMER SCHOOL
JUBILEE EDITION
organised by
The Civic Academy Foundation
with the support of
The Polish Institute in Bucharest
INSTITUTULUI POLONEZ
Sighet
13-16 July 2018
Friday, 13 July
Arrival of participants
20,00 Dinner
Saturday, 14 July
10,00-13,30
First round-table:
18 YEARS OF QUESTIONS AND ANSWERS
Students and teachers of the Sighet Summer School about the signification of this experience (memories, meanings, influences, consequences)
Chairperson: Stéphane COURTOIS
(coffe break 11,30-12,20)
13,30-15,00 Lunch
15,30-16,00 Opening of the photo exhibition "Clinging to hope". Memories of the deportation A photography exhibition by Marc Schroeder
16,00-19,30 Second round-table: ROMANIA AND US About the Centennial year as an exorcising execise
Chairperson: Dennis DELETANT
(coffe break 17,30-18,00)
20,00 Dinner
Sunday, 15 July
9,30-11,30 Third round table: WE ARE IN EUROPE. WHERE IS EUROPE?
Chairperson: Thierry WOLTON
11,30-12,00 Coffe break
12,00-13,00
ALUMNI FOR LIFE: About the future of the Sighet Summer School
13,00-16,30 Visit in Maramureş
17,00-17,30 Opening of the exhibition
"The Cold War. A short history of a World Divided", realized by the Institute of National Remembrance in Warsaw
An event organized with the support of the Polish Institute in Bucharest
20,30
Dinner and camp fire
Monday, 17 July
Departure of the participants