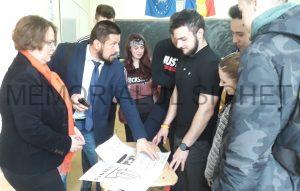 Between March and June 2019 the Sighet Memorial organized workshops with the participation of 88 students from Bucharest, Cosesti Arges and Sighet
The workshops were organized in the framework of the project Monuments of Remembrance.  To bring closer the knowledge about the ways in which monuments can be used to learn about history and therefore to better understand the role of memory in shaping identity and values was the aim of the project Monuments of Remembrance 1918-2018.
The Sighet Memorial staff emphasized the ways in which societies commemorate the history of their nation. The students were asked to chose a monument and then to investigate ot only the circumstances of the creation of the objects of their choice – but above all how they function in the awareness of the local community. The students worked alone or in small groups, under the supervision of the Sighet Memorial experts. The results of their work were presented in the workshops.
The project Monuments of Remembrance 1918-2018 is an international educational project, implemented in Poland, Czech Republic, Slovakia and Romania by five independent civil society organisations, which are working on a daily basis to promote knowledge about the past and to promote historical and civic education:
 Krzyżowa Foundation for Mutual Understanding in Europe (Poland),
 Paweł Włodkowic Institute (Poland),
 Centrum pro dokumentaci totalitnich rezimu, z.s. (Czech Republic),
 Post Bellum SK (Slovakia),
 Fundatia Academia Civica -Sighet Memorial (Romania).
Among participants of the project were school students, scientists, experts in the field of public history, historical and civic education and teachers from Poland, Czech Republic, Slovakia and Romania.