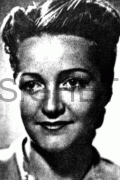 (1915-1965)
Wife of Corneliu Coposu, the leader of the Peasants' Party. Functionary at the Foreign Ministry.
She was arrested on 13 June 1950 and tried on trumped up charges, accused of spying for France. Sentenced to twenty years hard labour for "complicity in the crime of high treason", she was not released until 1964.
The after-effects of imprisonment took their toll, and she died two years after her release, in 1966.
Penal registration file: