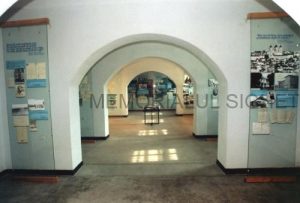 In an impressive display, the photographs, documents, and genealogical tree reconstruct the great historian's educational background, illustrating the important role played by his family and schooling. Brătianu's career is presented, starting with his early historical research and culminating in the publication of numerous
historical reference works, a remarkable contribution to academia.
Within the exhibition reference is made to other important moments in his life and career, such as his presence on the front in the two world wars, and his election as a member of the Academy. Nor has his political activity been neglected.
As a result of his political career, Brătianu was arrested on 5-6 May 1950 and imprisoned in Sighet for twenty-four months. Although he died in April 1953 at Sighet, his sentence was increased by sixty months by Interior Ministry Decision no. 559 of 6 August 1953.
The exhibition was created by a group of curators from the Romanian National Museum of History, led by Rr. Valeriu Leahu, on the occasion of the centenary of Brătianu's birth in 1998, and subsequently donated to the Sighet Memorial.
Ms. Maria Brătianu donated the personal objects, the last remaining after the death of the historian. The Black Sea bronze metope was donated to the Memorial by sculptor Ovidiu Maitec. The first edition of the works of Gheorghe Brătianu was donated by Prof. Nicolae Scurtu.