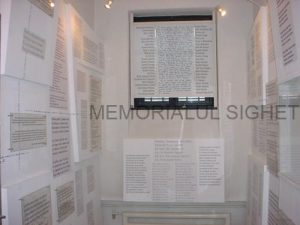 The poetry transcribed in this room – an infinitesimal part of those thought, transmitted and memorises in the prisons of communist Romania – were at the same time ways of communication, means of expression and of intellectual, mental and political resistance. Their selection was not – neither at that time by the collective memory, nor today by the eye of posterity – one exclusively aesthetical, as well as the importance and sense of their existence does not place them, in spite of some true masterpieces, within the limits of literary history.
Born without pencil and paper, transmitted from cell to cell through the Morse alphabet inscribed on the wall, this poetry was equally a mental gymnastics exercise, one of spiritual unloading, of human solidarity, of spiritual raising, of ascesis through the acceptance of anonymity. The authors of some of them are still not known, for others famous authors have been found, but we preferred to mix them without names, as in the moment of their birth lacking vanity, when those who memorised them were as important and necessary as those who composed them.
We hope that this room will be understood as a profound homage to the poets who suffered, those who became poets through their suffering and to the people, capable of producing this amazing plant capable of growing in darkness: poetry in prison.