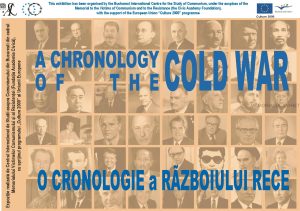 The exhibition was organised by the International Centre for Studies about Communism, part of the Sighet Memorial, in 2006.
Created by Romulus Rusan, the exhibition is part of the international "History after the Fall" project, financed by the European Comission through its "Culture 2000" programme. The partners of the Civic Academy and Sighet Memorial in this project were the "Hannah Arendt" Institute in Dresden, the Institute of Contemporary History in Prague, the Open Society Archive in Budapest, Karta in Warsaw, and the Romanian Institute of Recent History in Bucharest.
The exhibition has three versions, in French, English, and Romanian. The Romanian language version was inaugurated at Sighet in July 2006 and has become a permanent exhibition in the Memorial Museum.
Itinerary:
20 October-1 December 2006, Dresden
6 November-4 December 2006, Prague
14 December 2006-10 January 2007, Open Society Archive, Budapest
1 February 2007, "House of Encounters with History", Warsaw
10 February 2007, Academy Library, Cluj
23 March 2007, Palace of Culture, Jassy
10 May 2007, Romanian National Museum of History, Bucharest
26 February 2008, County Museum of History and Art, Zalău
15 March 2008, Memorial of the Revolution, Timişoara
4 April 2008, Museum of Art, Arad
11 September 2008, Dialog Gallery, Sector 2 City Hall, Bucharest
November 2008, Maison Culturelle Belgo-Roumaine, Brussels
25 January-25 February 2011, Mediaş Culture Center
December 2011-January 2012, Unity Museum, Alba Iulia
December 2011, "Zimna Wojna" Cultural Centre, Legnica
7 November-7 December 2014, "Petre Andrei" University, Iași