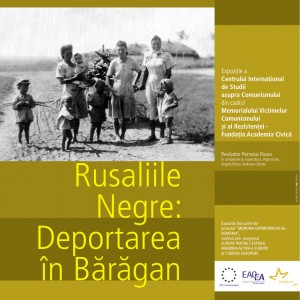 The exhibition, opened in 25 March 2011, commemorates sixty years from the deportations from the Banat and Mehedinţi to Bărăgan in the summer of 1951. It was one of the most bestial of all the numerous social purification projects invented by the communist regime during the Gheorghiu-Dej period, at the height of Soviet domination.
The exhibition, realised by Romulus Rusan, consists of twenty-eight panels, which provide a chronological and thematic exposition of the international situation in the 1950s (when Tito broke away from the Stalinist Cominform); the elaboration of the "dislocation" plan; the drawing up of the blacklists; the preparation and execution of the deportation; life in Bărăgan; the building of homes; the procurement of food and water; school; work; burials; and, finally, "Obligatory Domicile". The explanatory texts are accompanied by hundreds of photographs, maps and objects, all of which
are from the database of the International Centre for Studies of Communism. The eyewitness accounts are transcripts of recordings made by I.C.S.C. collaborators.
The exhibition is part of the "Remembrance of the Romanian Deportations" project, supported by the "Europe for citizens: Active European Remembrance" programme of the European Commission. A German version of the exhibition was realised with the support of the Romanian Cultural Institute in Berlin.
Itinerary:
25 March-30 April 2011, "Dimitrie Gusti" National Museum of the Village, Bucharest
3-16 May 2011, "Eugen Todoran" Central University Library of Timişoara
19-31 May 2011, Drobeta-Turnu Severin Art Museum
2 June-2 September 2011, Sighet Memorial
11-25 September 2011, "Maria Filotti" Theatre, Brăila
9 November 2011-15 March 2012, European Public Space, Bucharest
April-May 2012, Germans Democratic Forum in Romania City Hall, Sibiu
19 June-30 September 2012, Hohenschönhausen Memorial, Berlin
17-22 November 2012, Haus der Donauschwaben, Sindelfingen
25 January-31 March 2013, Romania's House, Romanian General Consulate, München
25 Aprilie-31 Mai 2013, Bukowina Institut, Augsburg
19 June -8 August 2013, Prefecture of Tübingen
11 October-4 November 2013, Hungarian Academy, Budapest
25 May-15 August 2014, Claudiopolis Centre, Cluj