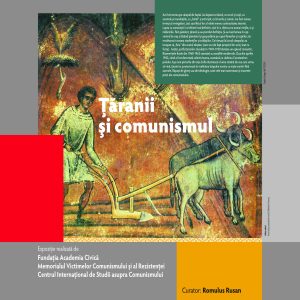 The exhibition was created in March 2009 to mark the sixtieth anniversary of the commencement of the forced collectivisation of agriculture and the beginning of the hell endured by the Romanian peasantry (the Plenary of the Central Committee of the Romanian Workers' Party held on 3-5 March 1949).
The curator of the exhibition is Romulus Rusan.
Using archive documents, period photographs, and oral history accounts, the exhibition recreates the Romanian rural world that was swept away by the juggernaut of communist collectivisation. One of the main elements of the exhibition is a map of the more than one hundred peasant uprisings against collectivisation and quotas between 1949 and 1962.
The Timiş and Arad branches of the AFDPR, the Alexandria County History Museum, and many eyewitnesses, some of whom are now historians of the events, contributed to the creation of the exhibition.
Itinerary:
17 March-30 May 2009, "Dimitrie Gusti" National Museum of the Village, Bucharest
28 May 2009, Sighet Memorial
31 July-4 September 2009, "Gheorghe Şincai" County Museum, Oradea
5 September-1 October 2009, "A.D. Xenopol" County Library, Arad
5-20 October 2009, Timişoara Museum of Art
15 December 2009-7 January 2010, Turnu Severin Art Museum
26 January-26 February 2010, Jassy Museum of Unification
20 May-20 June 2010, Teleorman County Museum, Alexandria
28 November 2010-20 January 2011, Baia Mare County Museum of History and Archaeology
26-January-26 February 2011, National Museum of Unification, Alba Iulia
5 April-5 June 2011, Satu Mare County Museum
25 May-15 August 2014, Claudiopolis Centre, Cluj