Romania's ethnic communities also suffered considerably during the communist period. In January 1945 over 75,000 ethnic Germans, who were Romanian citizens, were transported to the Soviet Union to "rebuild" the war-ravaged economy. Twenty percent of them died. The survivors were only allowed to return to Romania between 1949 and 1950. Forty-four thousand people from the Banat and Mehedinţi County, including Romanians, Germans, Bulgarians, Macedo-Romanians, Bessarabians, and Serbians, were transported to the Bărăgan steppe, where they were forced to build mud huts and work the land until 1956. After the Hungarian Uprising of 1956, the Hungarian community in Transylvania was subjected to persecution and numerous arrests took place.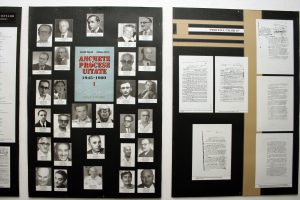 The Jewish community of Romania were also persecuted, with many accused of "Zionism."
This exhibition at Sighet Museum shows aspects of the Zionists trials; a trial of German writers (1958); and the communist authorities' "sale" of Jews and ethnic Germans in the Ceausescu era.